Bichon Frise Breed Information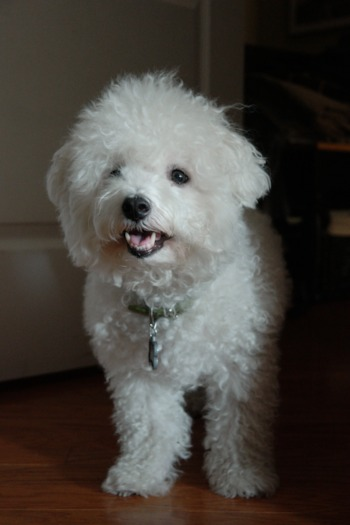 Bichon Frise puppies are small dogs that make good moderate-energy companions. They are known for their curly hair, sweet nature, and charming personalities. The Bichon Frise is one of the best breeds for children due to their affectionate and playful nature. They love to cuddle, explore, and play any game designed for dogs. Their gentle, easy-going temperament also makes them suited for life in a home with other animals. Bichon Frise puppies are one of the easiest dog breeds to train. They impress with their intelligence and devotion to their owners. 
BREED TYPE / MIX Purebred ENERGY Moderate SHEDDING Minimum TRAINING Responsive TEMPERAMENT Affectionate, Cheerful, Gentle, Playful ADULT WEIGHT 10-16 lbs ADULT HEIGHT 10-12 in LIFE SPAN 12-15 yrs
Characteristics
The Bichon Frise, also known as the Bichon a Poil Frise and Bichon Tenerife is one of the most popular purebred dog breeds in the United States 
Hypoallergenic Bichon Frise makes for an excellent allergy-friendly companion pet 
Bichon Frise puppies are smart and very easy to train 
Given their playful nature and kind temperament, Bichons make fantastic pets for families with children 
The Bichon Frise has an amazing reputation as a therapy dog. Its caring personality and devotion make it one of the best dogs for the job 
Outgoing and friendly towards others, Frise Bichons get along well with dogs, cats, and other pets as well as with strangers 
Bichon Frise grooming requires moderate effort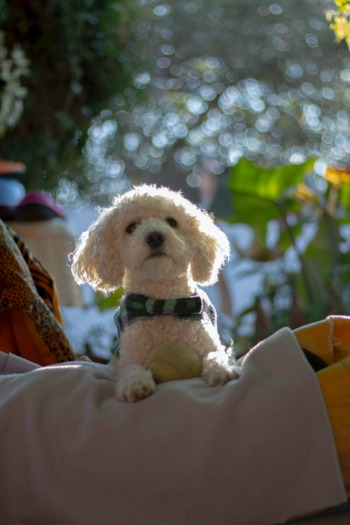 Appearance
The Bichon Frise is a compact, fluffy white or tan dog with gorgeous curly hair. The breed has large, dark, round-shaped eyes that are always alert and gentle. The coat is soft and fluffy, and the texture of the Bichon Frise's coat ranges from silky to wiry. The Bichon Frise generally weighs between 10 and 16 pounds, with males being slightly larger than females.
The height of these elegant dogs typically ranges between 10 and 12 inches. The breed is known for its expressive eyebrows, which can be raised in surprise or lowered in sympathy. The Bichon Frises have a distinctive appearance with their flattened ears, curly, wire-haired coat, and petite stature. It has a merry expression, and its eyes are usually brown or black in color. The Bichon Frise colors are most commonly shades of white, but they can also appear with colors like apricot, grey, buff, and cream. 
Temperament
The Bichon Frise is an adorable, caring, and friendly dog that everyone loves. This little cutie is a delightful ball of fluff that loves to entertain and be the center of attention. Bichons will do anything for cuddles, petting, and playtime. One of their favorite things to do is be with their family and friends. The Bichon Frise is a happy, energetic dog that loves to interact with others and run around the dog park.
This dog greets everyone it meets with the same enthusiasm as it does its parents. This little guy has no problem being goofy so if you are looking for a funny, spunky companion the Bichon Frise may be the perfect fit for you.  
The temperament of Bichon Frise dogs is as delightful as their appearance. They are gentle, outgoing, sociable, and very loving to those around them. Aggression is not something they are likely to possess, and they have the ideal behavior for a family with kids. 
Care
Bichon Frise Grooming
Grooming your Bichon Frise pup is an important step in training him. This will help teach him to be comfortable with the process and make future grooming much easier. Bichon Frises require regular brushing of the coat. It is recommended to brush your dog's coat at least a few times per week. This will help keep them looking their best while also ridding them of possible mats or tangles.
Baths should be taken every 5 or 6 weeks and after each bath, their nails should be trimmed if they are overgrown. The Bichon Frise also requires regular teeth brushing to avoid dental issues. It is beneficial to begin this grooming step when your Bichon Frise is a young puppy. It's always best to start early!
You should brush your Bichon Frise's teeth twice a week, and you can use a toothbrush specifically made for dogs. When brushing your Bichon Frise's teeth, make sure to clean the outer surfaces of his teeth as well as the chewing surfaces. This will help control plaque build-up and tartar build-up while preventing gum disease. 
Bichon Frise Exercise Needs
The Bichon Frise is a moderately active dog that enjoys a balanced lifestyle with plenty of exercise, fun, and cuddles. These dogs are not as energetic as other breeds, but they still require daily activities to keep them in shape. Ideally, they should get up to 40 minutes of walking and playing each day. They should also be provided with mentally stimulating games and activities while indoors.  
Bichon Frise Health
The Bichon Frise dog is a small, sturdy breed that is not prone to many health problems. These curly bundles of joy may suffer from common issues that affect all dogs. These include dental issues, skin or food allergies, cataracts, joint issues such as luxating patella, and hip dysplasia. The Bichon Frise breed doesn't have major health concerns that are life-threatening. Puppies that are carefully bred are unlikely to suffer from serious ailments. 
Bichon Frise Lifespan
The Bichon Frise is one of the most popular dog breeds in America. This hypoallergenic, small breed has a lifespan of 12 to 15 years. Some Bichon Frises have also been seen to live past their life expectancy, reaching ages of 20+ years. Providing them with a well-balanced and nutritious diet along with plenty of exercise and a good living environment can increase the Bichon Frise's life expectancy. 
Bichon Frise Training
Training your Bichon Frise puppy is a fun and rewarding experience, but it can also be challenging. All small puppies, regardless of their breed or level of intelligence, have a short attention span which makes it difficult for them to remain focused for long. Make sure you have your puppy on a consistent training schedule.
Training is a process and should be broken into short-term goals that are easy to accomplish and maintain, as well as longer-term goals that are more challenging. Training your Bichon Frise puppy should not be stressful for them or for you. Make your training session fun for both of you with plenty of praise, treats, and exercise.
Avoid using choke collars or other harsh methods of corrections to train your puppy. Remember that while it is important to establish firm boundaries with your puppy, you should never allow them to be hurtful to you. If they act aggressively towards you, use a timeout by moving yourself away from the situation and allowing them time to calm down. This works well for older dogs, too. Using harsh punishments will most likely prove counterproductive when training Bichon Frise puppies, so they are best avoided. These adorable dogs are sensitive, and it is likely they become shy or reserved if they are treated harshly. 
History
The Bichon Frises are a breed of dog that has been around for centuries. These small dogs were originally bred as companion dogs in Tenerife, but with their fluffy white coat, elegance, and sweet disposition, they were soon transformed into the favored companion pets of European royalty.
The Bichon Frise has seen its ups and downs throughout history. Although it is common knowledge they were the favored pets of various kings and queens, what most don't know about these beautiful dogs is how they almost became extinct. According to their well-documented history, when kingdoms fell, Bichons found themselves on the streets.
Since during those times it was custom for only the wealthy to keep dogs as pets inside their homes, Bichons became unaffordable for the common folk. Luckily, their downfall was short as they had many talents to aid in their journey back to popularity. It is believed that their rise to popularity is attributed to their performances with the French Circus.
Their intelligence, beautiful appearance and natural talent for tricks and stunts caught the eye of circus employees who took them onboard and presented them to the world in various shows. From there on, the Bichon Frise breed once again became a favored pet around the world.
The breed traveled from continent to continent, winning even greater popularity wherever they went. They arrived in the United States in the 1950s and were quick to join the American Kennel Club. Today, the Bichon Frise is one of the most popular companion pets for families in the United States. It is also one of the top breeds used in crossbreeding. There are several designer dogs that have a Bichon Frise parent, and among them are the Yorkie Chon, Poochon, Cavachon, Aussiechon, and Havachon.